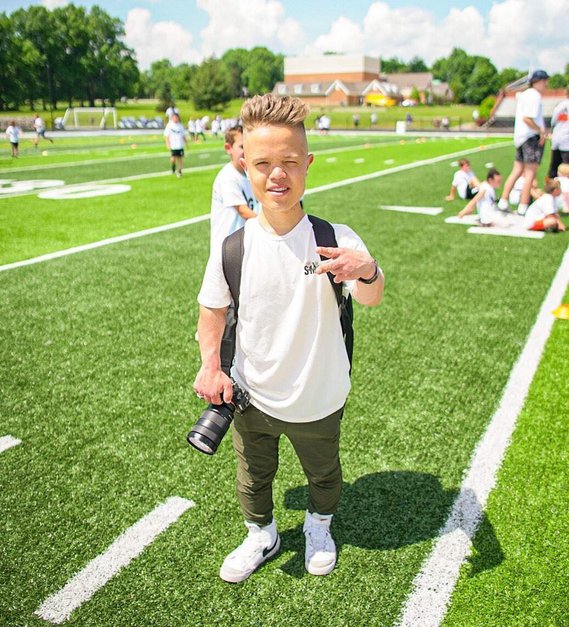 The 4FT5 Perspective
Growing up, I've always been below the average height line.


As someone who has achondroplasia dwarfism, I was dealt the 'short' end of the stick from the beginning. Sure, being 'short' is a challenge…but its all I've ever known and all I've ever wanted to know.See its given me a perspective to the world around me that not many others get to experience…at least for a majority of their lives.
See why I love photography is what the lens captures is ultimately up to the perspective of the shooter who clicks that shutter. And for me, my perspective provides a unique canvas for my photos. Where most are seeing it from eye level, I take a more ground level view, believing that sometimes the greatest pictures and life experiences come when we keep our heads always looking up
Interested in Working Together?
WHY 4ft5 Photography?
In October of 2018, my uncle suddenly became ill. No one knew what it could be. He was one of the healthiest individuals in our family, however suddenly he would have headaches, faint, and slowly lose his memory. A trip to the the emergency room and CAT scan revealed that he had stage four brain cancer. In a matter of moments my life was changed upside down. In a matter of 6 weeks, I went from texting one of the most important men in my life to giving a eulogy speech at his farewell celebration.
Cancer took his physical life, but could not take away his perspective on life. See he had always been the one to work hard but play harder so to speak. Him and my Aunt D worked hard so that they could go out and experience the world around them - through travel. Their carpe diem or seize the moment' mentality took them to all parts of the world - whether that was bungee jumping in New Zealand or sleeping with lions on an African Safari - they did it all.. and they did it all together..Beyond the fact that they did it together…they made sure that they captured those moments too with a camera. Uncle Denny would always say, "I take photos to return to a moment otherwise gone' Kind of creepy writing this now as now he's the one gone and I only have photos to return to moments with him. That quote always stuck with me and as I grew older, I would feel my own fascination for photography continue to grow. I felt this urge to capture the moments around me, but never ever did anything to feed that urge.
When my Uncle Denny passed, the last gift that he gave his loved ones was a little red envelope and in that envelope a monetary gift with a note. 'Its not tragic to die if you know you lived your life doing what you loved. Use this money and put it towards something that you love'
Immediately in that moment, I knew what I wanted to love. So i took that money and bought myself a camera. Fast forward and that Sony a6000 and subsequent SonyA7iii captured so many moments in my life. It has made me feel the most alive that I have ever felt. I can't put it into words to do it justice, but the camera has woke me up to the beauty around me and has given me an avenue to share my perspective. Every time I capture an image, yes its a return ticket to moments otherwise gone, but ultimately i feel like it's my uncle's spirit continuing to live on.
Photography like life is all about perspective. We all have a unique perspective to share and I choose this avenue as one way to share mine. In every photo, I look to capture a moment that otherwise would go unseen. These moments deserve to be seen and shared.
Life is literally too short to not capture and seize its moments. We as humans have a love for recording our history reminiscing about it in future days. For me, photography plays that role. It allows me to capture moments the way I see them and immortalize them. Ultimately - I want people to stop and notice when they see one of my photos. I want them to stop and notice God's beauty. God has provided us a world with so much, but we take it for granted. Too often then not we go through the days..not stopping to notice the environment around us. For me - God has called me to photography now to capture those moments so that others might stop to notice his beauty yet again. Whatever and wherever, his beauty exists in all things and sometimes it requires a 'kick ass photo to be reminded of that. For the longest time I questioned why God took away my uncle when he did. He didn't deserve to pass. And while my heart still aches in the absence of Uncle Denny…God has provided me with something that will always keep his presence close to me.
When I shoot, the first thought I always have is, "That is worth recording" because if there's anything that I learned its that 'life is too short to not capture its moments